Restructured organization helps serve our customers even better
To enable us to support our customers even faster and in an even more focused way, we have merged our WITTENSTEIN motion control and WITTENSTEIN aerospace & simulation subsidiaries into one company. All expertise related to the development and production of customized systems for particularly extreme conditions has thus been pooled under one roof.
The new WITTENSTEIN motion control GmbH is not only a competent partner for the Defense and Subsea Oil & Gas sectors, in other words. From now on, our portfolio also includes customized solutions in the fields of aerospace and simulation. Our range of products is complemented by groundbreaking real-time operating software.
Please also note: All of the familiar WITTENSTEIN motion control addresses and contact details will remain unchanged.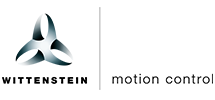 WITTENSTEIN motion control GmbH
Walter-Wittenstein-Strasse 1
97999 Igersheim (Germany)
+49 7931 493-0
+49 7931 493-10200